Ingredients:
1 tbsp olive oil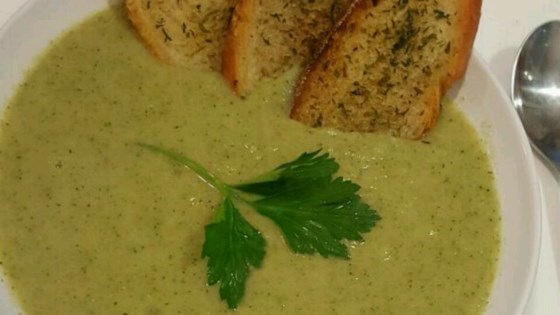 1 large onion, chopped
3 cloves garlic, peeled and chopped
2 (10 oz) packages chopped frozen broccoli, thawed
1 potato, peeled and chopped
4 cup chicken broth
1/4 tsp ground nutmeg
salt and pepper to taste
Instructions: Prep 15m | Cook 25M
1) Heat olive oil in a large saucepan, and saute onion and garlic until tender. Mix in broccoli, potato, and chicken broth. Bring to a boil, reduce heat, and simmer 15 minutes, until vegetables are tender.
2) With a hand mixer or in a blender, puree the mixture until smooth. Return to the saucepan, and reheat. Season with nutmeg, salt, and pepper.