Ingredients:
2 acorn squash, halved and seeded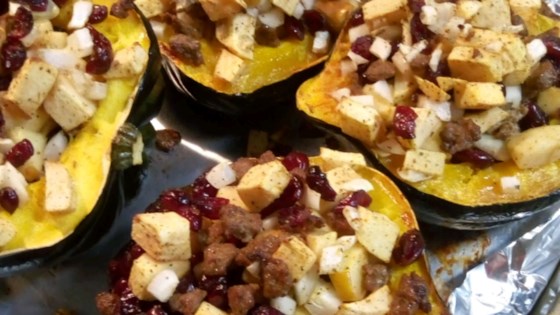 2 large Gala apples, cubed
1 cup pork sausage
1/2 onion, diced
1 cup raisins
1/8 tsp poultry seasoning
1/8 tsp ground ginger
1/8 tsp ground cloves
1/8 tsp celery seed
salt and pepper to taste
Instructions: Prep 20m | Cook 1h
1) Preheat oven to 350 degrees F (175 degrees C). Place acorn squash cut side down on a baking sheet.
2) Bake in preheated oven until soft and browned, about 30 minutes.
3) Mix apples, sausage, onion, raisins, poultry seasoning, ginger, cloves, celery seed, salt, and pepper together in a bowl. Spoon sausage mixture into the hollow of the acorn squash; place on the baking sheet.
4) Bake in the preheated oven until sausage is cooked through and apples are soft, about 30 minutes.